As a locally owned home heating and cooling business, our ultimate goal at Bears Home Solutions is to provide quality service and state-of-the-art products that keep homeowners comfortable year-round.
We service home heating and cooling equipment of all brands, but when it comes to products we install, our team is proud to be authorized Daikin Comfort Professionals – a title that requires our technicians to meet or exceed Daikin's exceptionally high standards for customer service, business integrity, and technical competency. Our company shares these foundational values with Daikin, and promotes, installs, and maintains their products with pride.
Bears Home Solutions offers a variety of Daikin products to heat and cool your home, but we want to highlight one Daikin product line that will fit any space, lifestyle, and budget for homeowners looking to maintain consistent indoor temperatures: the Daikin FIT. 
Offered as either an air conditioner or a heat pump, the Daikin FIT system is a side discharge, smart home HVAC system that connects to the same ductwork as traditional units, but provides a sleek, compact design and a mid-efficiency inverter at an affordable rate.
Let's dive a little deeper into the benefits of choosing a Daikin FIT system to create a comfortable ecosystem in your home.
We all know how it feels to be too hot one second and too cold the next while indoors. This is often due to the start-and-stop nature of non-inverted home HVAC systems. The Daikin FIT line is engineered with energy-efficient inverter technology, which means the system runs continuously but adjusts the compressor's speed to meet the demand – like cruise control in a car – to keep temperatures in your home consistent and comfortable.
Unlike cumbersome "cube style" units, Daikin FIT systems are slim, compact, and lightweight, making them perfect for homes with limited installation space. They also can be mounted on the wall or the ground to provide extra space in your yard, or on your roof, patio, or terrace without compromising comfort.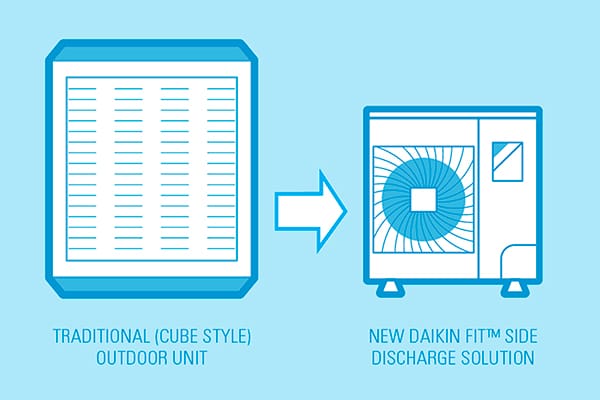 Clean and Quiet Operation
Because Daikin FIT systems run continuously at low energy-saving levels, the air running through the system is consistently filtered to control humidity and improve indoor air quality. This also significantly reduces disruptive operational sounds often associated with non-inverted home HVAC systems, which means more peace and quiet in your environment – especially if the equipment is installed by a window or near an outdoor gathering space.
Energy-Efficient Function
With energy-efficient inverter systems like the Daikin FIT, your family can maintain a clean, comfortable ecosystem at home while staying within your budget. In fact, this revolutionary technology can save up to 30% more energy than non-inverter systems, which ultimately reduces your monthly utility bill.

Interested in learning more about which Daikin FIT product works best for your home? Contact our team of Comfort Advisors today to get more information and schedule an installation appointment!